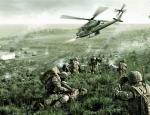 Codemasters
vient tout juste d'annoncer un partenariat avec Image Metrics pour l'intégration dans
Operation Flashpoint 2 : Dragon Rising
d'animations faciales réalistes. Vous ne connaissez sûrement pas Image Metrics, mais c'est une société californienne devenue spécialiste en animation faciales grâce au développement d'un logiciel spécifique. Depuis, Image Metrics vend sa technologie aux éditeurs tiers qui peuvent l'inclure dans leurs jeux. Si ce point peut sembler être un détail, allez donc jeter un œil au
site officiel
pour voir quel est le résultat obtenu. Ces animations faciales seront utilisées dans les cinématiques du jeu, on regrette qu'elles ne le soient pas dans tout le jeu, même si pour sniper un adversaire à 200 mètres, on a pas vraiment besoin de voir son sourire.
Le communiqué complet se trouve dans la suite de la nouvelle.
LOS ANGELES, CA - Sept. 3, 2008 - Image Metrics, the leading provider of facial animation solutions to the entertainment industry, is creating facial animation for key characters appearing in the cut scenes of Codemasters' Operation Flashpoint 2: Dragon Rising. Slated for release in 2009 for major gaming platforms, the title is the much anticipated sequel to the genre-defining military conflict simulator game released in 2001.

Operation Flashpoint 2: Dragon Rising will simulate an immense conflict between advanced forces in which players can choose between a broad range of military disciplines, vehicles and equipment. To immerse game players in the action, Codemasters is using Image Metrics' facial animation solutions in the cut scenes in order to enhance the range of human emotions expressed in the chaos of war.

"Operation Flashpoint 2: Dragon Rising will take players closer to war then they've ever come before," said Brant Nicholas, Senior Producer, Codemasters Studios. "To achieve that end, we turned to Image Metrics' facial animation solutions because of their unique ability to perfectly capture the range of emotions that soldiers experience in combat."

"With Operation Flashpoint 2: Dragon Rising, Codemasters has set out to capture the gritty reality and human drama of warfare," said Mike Starkenburg, Image Metrics' chief operating officer. "We're honored that Codemasters has chosen our facial animation technology to help achieve that realism and to further immerse players in the gameplay experience."

Image Metrics will develop 57 shots for Operation Flashpoint 2: Dragon Rising, totaling 262 seconds of animation in about one month. The rapid delivery from start of production to final animation is a result of Image Metrics' efficient, automated performance-driven facial animation solution.
Without markers or makeup, the solution captures an actor's entire facial performance, analyzes it pixel-by-pixel, and then transfers it onto the computer generated (CG) character model. The facial nuances, subtleties and details the technology captures perfectly replicate the actor's performance while helping studios like Codemasters cost-effectively achieve new heights in storytelling.

About Image Metrics
Image Metrics brings digital characters to life. Providing the entertainment industry's first and only marker and makeup free performance-driven facial animation solution, Image Metrics is creating some of the most emotionally compelling animated characters in computer-generated media today. Developed over the past seven years by a team of computer vision Ph.D.s, the process enjoys widespread adoption by some of the best-known production studios in the entertainment world, including Digital Domain, Activision, EA, Rhythm and Hues, Rockstar Games and Sony Imageworks. The company is located in Santa Monica, California with R&D headquarters in Manchester, U.K. Company investors include Saffron Hill Ventures.