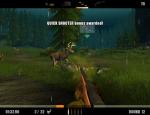 Réjouissez-vous, en ce 15 août rempli de nouvelles croustillantes, puisque nous venons d'apprendre que
Deer Drive
, célèbre jeu de chasse d'arcade, aurait très bientôt sa version Wii.
C'est toujours
SCS Sofware
qui se charge du développement, et
Mastiff Games
s'occupera de l'édition du jeu, prévu pour cet hiver.
La communiqué de presse (anglais) se trouve dans la suite de la nouvelle.
San Francisco, CA- Aug 15, 2008 Video game publisher Mastiff announced today that they have teamed up with developers SCS Software and Kouyousha to bring the award-winning arcade- style, multi-player hunting series, Deer Drive, to Wii (tm) this fall.

Deer Drive meshes hunting simulation with arcade style pick-up-and-play action and pacing for an exciting gaming experience. Deer Drive is the first deer hunting game that features two player simultaneous play. Additionally, Deer Drive features a multitude of gameplay modes, including four player party mode, true-to-life sound effects, passive and aggressive prey, and a slew of hunting weapons.

"Deer Drive is an entirely different animal when it comes to hunting games," said Bill Swartz, head woof at Mastiff. "Most hunting games are slow moving simulations with frustrating controls. Deer Drive is all about shooting, all about pick-up-and-play fun and being a more accurate marksman and better hunter than your friends."
Deer Drive Features:

Arcade-style multiplayer action hunting on Wii for the first time.
Pick-Up-And-Play: Lock, load, and take down some bucks. Just be ready to defend yourself from aggressive mountain lions, bears, charging moose and other dangerous situations.
Multiplayer: Play head-to-head with a friend or with up to four players in Party Mode.
Optimized to work with Wii Remote(tm) or the Wii Zapper(tm) accessory.
Changing weather creates dynamic hunting conditions over varied terrain.
Challenging for casual and hard-core players alike.
Ethical hunting integral to the game

Learn more...
http://www.mastiff-games.com/

About Mastiff
About Mastiff: Mastiff is a publisher of interactive entertainment with offices in Tokyo, San Francisco and Los Angeles. Titles from Mastiff include Gurumin for PSP(r) (PlayStation(r)Portable) system, Major League Eating: The Game for Wii and La Pucelle: Tactics for the PlayStation(r)2, which was awarded an Editor's Choice Award from leading gaming website, IGN.com. Upcoming releases from Mastiff include the highly anticipated Renegade Kid game, Moon, for Nintendo DS(tm). For more information please visit www.mastiff- games.com.