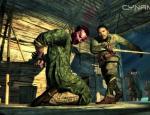 Moi, depuis quelques jours, je mange
Call of Duty 5 : World at War
, je bois
Call of Duty 5 : World at War
, je dors
Call of Duty 5 : World at War
. Il est partout, et impossible de passer une seule journée sans qu'un communiqué ou que quelque image ne fassent leur apparition à propos du jeu.
Aujourd'hui ne déroge pas à la règle, et c'est ainsi que nous venons de recevoir un petit communiqué nous faisant état d'un mode co-op dans le prochain titre de
Treyarch
. Ce dernier vous permettra de parcourir la campagne solo jusqu'à quatre joueurs simultanément en réseau, ou en
split-screen
sur la même console. La Wii, quant à elle, doit se contenter d'un simple mode
split-screen
. A noter également qu'en jouant en mode coopératif, vous augmentez les possibilités de rejouabilité du jeu, mais vous gagnez aussi des points d'expérience et débloquez des bonus. C'est le moment de vous faire des amis.
Le communiqué de presse se trouve dans la suite de la nouvelle.
Call of Duty: World at War introduces co-operative play, bringing fresh meaning to the "No One Fights Alone" mantra with up to four-players online for Xbox 360, PS3 and PC, or two-player local split-screen on consoles. Nintendo Wii will also support a unique co-op mode for two players. For the first time ever players will experience harrowing single-player missions together for greater camaraderie and tactical execution. The co-op campaign allows players to rank up and unlock perks in competitive multiplayer by completing challenges and earning experience points, adding continuous re-playability and team-based gameplay. Whether playing competitively or cooperatively – if players are online with Call of Duty: World at War – they will always gain experience points. Based on a player's experience rank and rank of the player's friends, Call of Duty: World at War will scale dynamically to provide a deeper level of challenge.