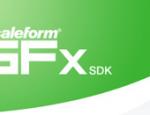 Epic Games
et Scaleform viennent d'annoncer l'intégration de Scaleform GFx dans l'
Unreal Engine 3
. Cet utilitaire se charge de créer des UI (
User Interface
) dynamiques, facilement et rapidement. Comme d'habitude avec l'IPP (Integrated Partners Program), le logiciel est proposé gracieusement pour les développeurs qui feront (ou ayant fait) l'acquisition du moteur phare d'
Epic Games
.
Le communiqué complet (en anglais) se trouve dans la suite de la nouvelle.
GREENBELT, MD and CARY, NC (February 18, 2008) – Scaleform Corporation and Epic Games, Inc. today announced that Scaleform GFx, the industry's leading user interface (UI) production tool for hardware-accelerated scalable vector graphics, is now integrated with Epic's Unreal Engine 3 (UE3), the number one game engine for cross-platform game development. As a member of Epic's exclusive Integrated Partners Program (IPP), Scaleform has developed a production-ready GFx integration, which is now available to publishers or developers licensing UE3.

Scaleform worked closely with its UE3 customer base to develop a cross-platform integration that can be rapidly adopted by all UE3 licensees. Using Scaleform GFx and proven visual tools such as Adobe Flash™ Studio, developers can move from a programmer-centric static UI development environment to an artist-driven dynamic UI and animated texture production pipeline.

Scaleform GFx is fully integrated into the UE3 hardware-independent graphical rendering system for superior cross-platform support, enabling artists to create scalable data-driven UI elements for menuing systems, overlays, HUDs and animated textures directly on 3D objects. GFx also provides an innovative text and font system specifically designed to enhance productivity and streamline localization. Artists using GFx can maintain aesthetic continuity in their game with efficient shared font support, high quality scalable text rendering, and soft text shadows for better readability. Rich HTML layout and editing support ease UI design, and GFx's integrated Asian IME system for Chinese, Japanese and Korean text input speed the localization process and enables out-of-the-box multilingual chat.

"A growing number of high-profile UE3 developers are now using Scaleform GFx such as BioWare, the powerhouse behind Mass Effect," said Brendan Iribe, chief executive officer of Scaleform. "The Unreal community has been instrumental in helping us create an integration package that not only leverages the full feature set of GFx, but truly raises the bar by delivering a seamless visual development path from Flash to UE3. For instance, we recently added an easy-to-use communication layer from UnrealScript and Kismet to Flash ActionScript. We are fully committed to Epic's Integrated Partners Program and will continue to enhance our integration as we work with the exceptional UE3 developers."

"Scaleform shares BioWare's commitment to delivering compelling game experiences via cutting-edge technologies, which streamline and improve the development process. Mass Effect is only the beginning of a long-term commitment by BioWare to deliver an incredibly immersive cinematic UI experience," said Greg Zeschuk, president of BioWare.

"We strive to not only enhance UE3 constantly, but also make sure that it works hand in hand with other premier middleware technologies. The incorporation of Scaleform GFx into UE3 is a significant milestone," said Dr. Michael Capps, president of Epic Games. "The GFx integration gives our licensees better access to Scaleform's best-selling technology, and lets them focus programming resources on making great games. "

Epic Games' Integrated Partners Program (IPP) establishes a formal business relationship with exceptional companies making cross-platform technologies which integrate with, and are complementary to, UE3. Under the IPP, Epic provides continuous UE3 source code access and full technical support to IPP members. Companies who join the IPP agree to provide a high level of technical support for UE3 licensees through Epic's established support channels, keep their implementations up-to-date with the latest engine versions and collaborate with Epic on potential promotional and co-marketing efforts.

About Scaleform
Scaleform Corporation is a leading provider of tools and middleware for the video game, embedded, mobile, and desktop markets. Scaleform licenses cross platform, hardware accelerated vector graphics engines and UI toolkits, which allow users to design, develop, and deploy a variety of interactive entertainment content across a wide range of platforms and formats. For more information, please visit: www.scaleform.com.

About Unreal Engine 3
The award-winning Unreal Engine is known for cutting-edge graphics and best-of-breed toolset. Unreal Engine 3 maintains those features while adding massive world support, multi-processor support, next-generation console optimizations, and one of the most mature tool pipelines in the industry. Unreal Engine 3's advanced toolset is designed specifically to accelerate developers' productivity for ultra-complex, next-generation content. Additional information on Unreal Engine can be obtained through the Unreal Technology Web site at www.unrealtechnology.com.

About Epic Games
Epic Games, Inc., based in Cary, NC and established in 1991, develops cutting-edge games and cross-platform game engine technology. The company has created multiple million-selling, award-winning titles in its Unreal series, recently shipping Unreal Tournament 3 for PC and PlayStation 3. Epic's breakthrough game, Gears of War, sold over 4.5 million copies and was awarded overall Game of the Year for 2006 by the Academy of Interactive Arts & Sciences, Game Developers Choice Awards, GameSpot, GamePro and many others. Epic is also responsible for the Unreal Engine, which is the underlying technology for a wide range of games including the Game Critics Awards' Best Console Game and Spike TV's 2007 RPG of the Year Mass Effect by BioWare and the 2007 BAFTA Best Game and Spike TV Game of the Year BioShock by 2K Games. Epic's Unreal Engine 3 is the current holder, and three-time consecutive winner, of Game Developer magazine's Front Line award for Best Game Engine. Epic was also recognized as 2006 Studio of the Year by Spike TV, 2006 Developer of the Year by Official Xbox Magazine and 2007 Large Company of the Year by the North Carolina Technology Association. Additional information about Epic can be obtained through the Epic Games Web site at www.epicgames.com.