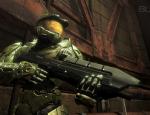 Bungie et Microsoft comptent fêter le cinquième anniverssaire de la sortie d'Halo en grande pompe avec l'ouverture d'une phase de bêta test public. Enfin, quand je dis public je ne sais pas à quel point car le communiqué de presse ne pré.cise pas si l'accès à cette bêta sera restreint ou non.
Cette phase de bêta test sera réservée aux possesseurs de Xbox 360 (héhé, vous y avez cru) qui pourront déjà jeter un oeil sur un trailer qui sera diffusé cet hiver pour se familiariser avec l'univers du jeu.
Bonne nouvelle aussi pour les possesseurs d'Halo 2, du contenu exclusif devrait arriver sur Xbox 360 au même moment
Le communiqué complet (Anglais) se trouve dans la suite de la nouvelle.
REDMOND, Wash. - Nov. 15, 2006 - On the fifth anniversary of the release of the landmark Xbox video game "Halo," Microsoft Game Studios and Bungie Studios today celebrated the milestone by announcing an exclusive hands-on experience with "Halo 3," one of the industry's most anticipated sequels. The Xbox Live multiplayer public beta, which is a pre-release version of the multiplayer experience of "Halo 3," is scheduled for availability in spring 2007 exclusively on the Xbox 360 video game and entertainment system.

In addition, Microsoft and Bungie confirmed today that consumers will be able to experience the "Halo" universe this holiday season through a one-time airing of a stirring, 60-second "Halo 3" teaser ad. And finally it was announced that the new, premium downloadable content for "Halo 2," exclusive to Xbox 360, is scheduled for release in spring 2007.

"The 'Halo' Nation has a nearly insatiable desire," said Jeff Bell, corporate vice president of global marketing for the Interactive Entertainment Business at Microsoft Corp. "We hope a taste of advance 'Halo 3' gameplay satisfies some of their appetite as we count down to the game's launch later in 2007."

Expanding on everything that has made the "Halo" franchise so widely recognized, the final version of "Halo 3" will provide a wealth of technical and gameplay advancements, available only through Xbox 360, the leading next-generation video game entertainment system. Via the Xbox Live multiplayer public beta, a first of its kind for the "Halo" franchise, gamers will be able to play online via Microsoft's premier online entertainment network and participate in a pre-release version of the multiplayer experience of "Halo 3." This beta also represents an opportunity for gamers worldwide to participate in the development of "Halo 3." Through the resulting feedback, Bungie Studios will be able to further refine and hone the end result of "Halo 3."

Unveiled earlier this year at the Electronic Entertainment Expo in Los Angeles, "Halo 3" represents the third chapter in the "Halo" trilogy, an international award-winning action series that grew into a global entertainment phenomenon, selling more than 14.7 million units worldwide, which equals nearly $700 million in sales, and logging in excess of 800 million hours of multiplayer action on Xbox Live.

On Dec. 4, the special 60-second "Halo 3" advertising spot will be broadcast, one time only, on ESPN's "Monday Night Football." The ad, created by advertising agency McCann Erickson, will provide viewers with a unique and compelling look at Master Chief and the world of "Halo 3." It is easily one of the most anticipated ads of the year and promises to be the biggest event in appointment advertising this year. It underscores the innovative approach and driving influence the "Halo" franchise has commanded. The television spot will also be available for download exclusively for Xbox 360 users via Xbox Live Marketplace.

In addition, gamers who have jumped in to Xbox 360 will be able to join legions of Xbox fans next spring in all-new multiplayer maps for "Halo 2" available for download through Xbox Live Marketplace. The exclusive "Halo 2" content will bring new experiences and excitement to the seminal sequel that made entertainment retail history in its first 24 hours - with $125 million in sales - and that boasts more than four billion online matches since its release in November 2004.

"Since its original release, 'Halo 2' has redefined online play, delivering superior multiplayer capabilities in addition to an incredible social experience, and nurturing a constantly growing community through Xbox Live," said Shane Kim, corporate vice president of Microsoft Game Studios. "After five years of rabid fan interest in the 'Halo' franchise and with more than 4 million users and counting on Xbox Live worldwide, this is the perfect time to invite fans to join the global 'Halo' phenomenon."

Next-generation high-definition visuals; enhanced artificial intelligence; an advanced real-time lighting engine; and new weapons, characters and challenges are just a few examples of the evolution of design and technology in "Halo 3." These improvements are designed to give gamers an unparalleled experience and tell an even more compelling and engrossing story. Working in concert with Xbox Live on Xbox 360, "Halo 3" builds on the unique social multiplayer experience of "Halo 2" and promises to expand the innovative and evolving online gameplay and community of "Halo 2" on Xbox Live. In this third chapter of the "Halo" trilogy, Master Chief returns to finish the fight, bringing the epic conflict between the Covenant, the Flood and the entire human race to a dramatic, pulse-pounding climax.