Call of Duty 2 : Big Red One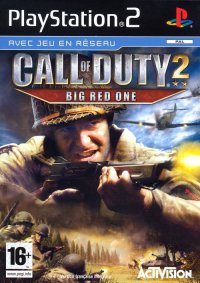 Note : ( détail moyenne )
Type de jeu : FPS
Plateformes : GameCube, PlayStation 2 (PS2), Xbox
Période : Seconde Guerre mondiale
Genre : Militaire
Modes de jeu : Campagne solo, Multijoueur
Licence : Call of Duty
Développé par : Treyarch
Co-développeur : High Voltage Software
Édité par : Activision
Statut : disponible
Date de sortie (Europe) : 18 novembre 2005 (date officielle)
Moteur Graphique : NGL
Site officiel : http://www.callofdutygame.com/
Big Red One est la version consoles ratée de Call of Duty 2. Call Of Duty : Big Red One se montre bancal à bien des égards. Son IA à l'ouest, son action mal balancée ou encore son level design d'un autre âge en font un bon gros navet qu'Infinity Ward avait pourtant réussi sur PC.
Noter Call of Duty 2 : Big Red One
Vous devez être connecté à votre compte pour noter un jeu.
Achetez le jeu sur Price Minister !

En neuf ou en occasion, payez moins cher !